3 of the best Pancake Day recipes – Caleño style

Bored of traditional pancakes? So are we. Which is why this year we're adding a Colombian twist to some of our favourite Shrove Tuesday classics, inspired by the tropical flavours of our non-alcoholic spirits. From coconut key lime pie pancakes with Dark & Spicy cream to soft and fluffy cheese filled Arepas – a traditional Colombian pancake. So grab your favourite bottle of Caleño and let's inject a little joy to Pancake Day this year. We've even made a delicious cocktail for you to enjoy too, perfect whether you're eating pancakes for breakfast, lunch or dinner (or all three, we're not judging).



1. Arepas + Café de Cali
Arepas are a Colombian style pancake, usually enjoyed for breakfast, smothered in butter and a little extra cheese. Paired with our Café de Cali cocktail, you've got the perfect morning combo.
Makes 4 pancakes
Ingredients
1 cup of Harina Pan (cooked white maize flour)
1 cup of warm water
1 cup of cheese – we like mozzarella but you could use another / vegan equivalent
1 tbsp of butter

METHOD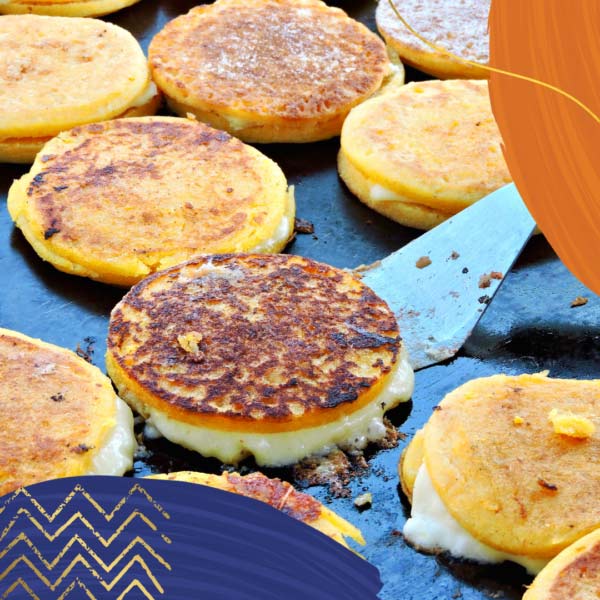 Combine all the ingredients in a bowl and mix together until you have a dough-like consistency
Separate the dough into four equal balls and then flatten with your hand so they are about ½ inch thick
Heat two tbsp of oil in a pan on a medium heat and then place the four dough balls in the pan
Cook the Arepas for 6 minutes on each side, or until light brown and crisp and cooked all the way through

While traditionally eaten for breakfast, you can enjoy Arepas at any time of day. Some people like to have them with savoury mince or pulled jackfruit, topped with guacamole and salsa.
Café de Cali
Ingredients
50ml Caleño Light & Zesty
25ml Espresso
10ml 2:1 Sugar Syrup or Gomme (something like Agave will also work)
Dash of Tonic water
Method
Combine the top three ingredients together and serve over ice with a dash of tonic water – if you're having this in the evening, maybe go for decaffeinated coffee!
2. Tropical Light & Zesty Pancakes
Makes 6-8 pancakes
Ingredients
1 cup of plain flour
1 large egg
1 cup of milk
½ tsp of bicarbonate of soda
1 tsp of baking powder
Pinch of salt
Toppings
4 pineapple rings (tinned or fresh)
35ml of Caleño Light & Zesty
Maple syrup
Cream, ice cream or yoghurt – we like ours with coconut yoghurt
Method
Place your pineapple rings in a bowl with 35ml of Caleño Light & Zesty and leave to absorb the liquid while you make the pancakes (use the leftover liquid in a cocktail!)
Whisk the egg in a large mixing bowl then add the milk, flour, baking powder, bicarbonate of soda, and salt – the mix should be fairly thick
Put your pan on a medium heat and when warm, add ½ tsp of oil
Add one ladle full to the pan and use the back of the ladle to spread out the mixture
Cook on each side for 1-2 minutes, until light brown
Continue with the rest of the batter (keeping the cooked pancakes warm in the oven)
Top with the Light & Zesty pineapple, coconut yoghurt and a drizzle of maple syrup
Enjoy!


2. Key Lime Pie Pancakes with Dark & Spicy Caleño Cream
Makes 6-8 pancakes
For the pancakes
1 cup of plain flour
½ cup of coconut or plain yoghurt (we like Alpro coconut yoghurt)
½ cup unsweetened non-dairy milk – coconut milk or another nut milk is ideal
3 tbsp fresh lime (1-2 fresh limes)
1 lime (zested)
1 tsp baking powder
½ tsp baking soda
¼ tsp salt
1 large egg
1 tsp vanilla

For the cream
200 ml of double cream
100 ml of Caleño Dark & Spicy

Toppings
3 tbsp unsweetened coconut (toasted)
Maple syrup or honey
Lime zest


Method
Beat the egg and then combine with the rest of the wet pancake ingredients
Now add the rest of the ingredients: flour, baking soda, baking powder, salt and mix well until a batter forms – the mixture should be thick, if it seems too dry though, add a drop more milk
Set the mixture to a side while you make the cream: whisk together the double cream and Caleño Dark and Spicy until soft peaks form – keep in the fridge
If you haven't already done so, toast your coconut until golden brown and the aromas are released
Now heat your pancake pan on a medium heat with a little oil or butter and then add a spoonful of the pancake mixture – roughly ⅓ cup or a ladle full. Use the back of the ladle to spread out the mix
Cook for a couple of minutes on each side until golden and then repeat with the rest of the mix
Top with the Caleño cream, toasted coconut, extra lime zest and a drizzle of honey
Enjoy!
Tip: Keep your pancakes warm while you cook the others by placing them in a warm oven, with greaseproof paper between each one, so they don't stick.


Have a very Happy Pancake Day! Share your creations with us on Instagram @calenodrinks